A NEW BRAVE WORLD – Recovery, Renewal, and Resilience in a Post-Pandemic Reality: The Role of Science – A webinar discussion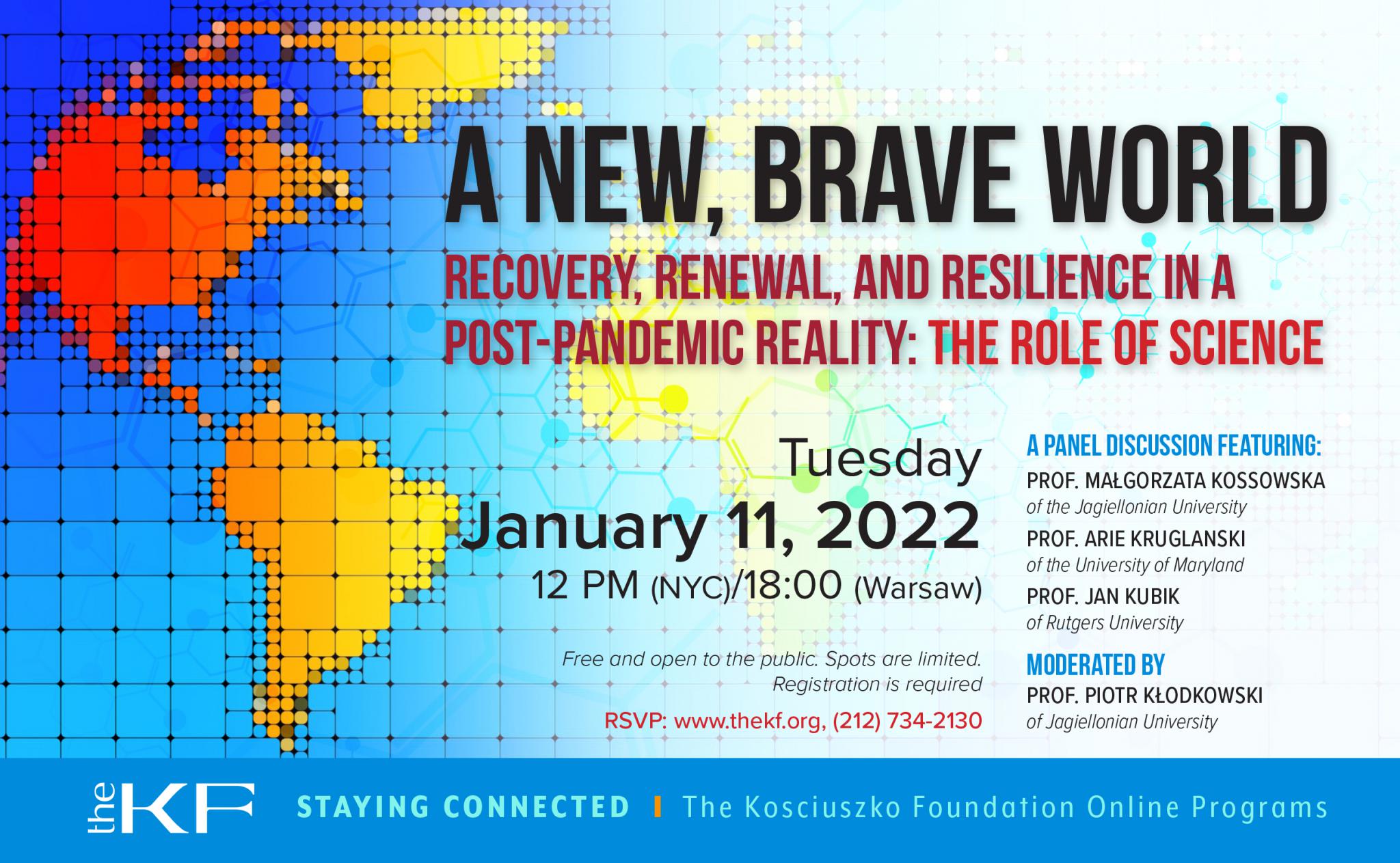 January 11, 2022, 12 PM ET

A NEW BRAVE WORLD - Recovery, Renewal, and Resilience in a Post-Pandemic Reality: The Role of Science - A webinar discussion

Featured speakers:
Prof. Malgorzata Kossowska, The Jagiellonian University
Prof. Arie Kruglanski, The University of Maryland
Prof. Jan Kubik, Rutgers University

Moderatorated by Prof. Piotr Klodkowski, The Jagiellonian University



The COVID-19 pandemic, being a global phenomenon, can take a terrible toll all around the world. Still, we know now that fatality rates vary significantly across continents and countries. And while symptoms of the disease, its course, and medical consequences are likely to be virtually the same worldwide, as are the recommended treatments and pharmaceuticals, other factors can differ to a remarkable degree. These include the means of communicating risk, the reasons provided to justify government measures, and even people's responses to the pandemic. These variations depend on the cultural and social or religious milieu because, while all these differences do enrich our world, they also create barriers in the communication and then decision-making processes, which may (or may not) lead to unexpected consequences.
Thus, being aware of those differences aids in the design of appropriate messages for a selected target group, which may constitute a greater or lesser proportion in societies characterized by cultural and religious heterogeneity. The experienced and knowledgeable panelists will discuss the potential social, cultural, and psychological implications of the COVID-19 pandemic, focusing on Poland, Europe, and the United States. They will attempt to explain how much a pandemic is not only a medical phenomenon but also a psychological, social and cultural phenomenon.
Małgorzata Kossowska is a full professor in psychology, head of the Social Psychology Unit, and Center for Social Cognitive Studies in the Institute of Psychology at Jagiellonian University. Her areas of interest include the cognitive and motivational underpinnings of complex social phenomena (e.g. political ideology, prejudice, social inequality in cultural context,), knowledge resistance phenomenon, cognitive rigidity and its relationships with social problem solving and socio-political decision making. She has authored over 90 papers published internationally and eight books about social cognition, closed-mindedness, stereotyping, prejudice and tolerance. Prof. Kossowska was an associated editor of European Journal of Social Psychology and Journal of Social and Political Psychology. Currently, she is a member of the editorial board of Behavioral Sciences of Terrorism and Political Aggression, and serves as an associate editor of European Review of Social Psychology.
Arie W. Kruglanski (Ph.D., UCLA) is a Distinguished University Professor of Psychology at the University of Maryland, and a founding co-director and co-principal investigator (PI) at START, the National Center of Excellence for the Study of Terrorism and the Response to Terrorism. He has published over 400 articles and 5 books on basic psychological processes, and the psychology of terrorism and extremism. Prof. Kruglanski received many scientific awards including the Donald Campbell Award from the Society of Personality and Social Psychology, and the Distinguished Scientific Contribution Award from the Society for Experimental Social Psychology. He served as President of the Society for the Study of Motivation, and a member of National Academy of Science panels for the study of terrorism and political violence.
Jan Kubik is a Professor in the Department of Political Science at Rutgers University and a Professor of Slavonic and East European Studies at University College London (UCL). He works on the rise of right-wing populism, culture and politics, and protest politics. Among his books are The Power of Symbols against the Symbols of Power and Twenty Years After Communism: The Politics of Memory and Commemoration, with Michael Bernhard. The 2020 President of Association for East European and Eurasian Studies and the recipient of the 2018 Distinguished Achievement Award from the Polish Institute of Arts and Sciences in America (PIASA). Prof. Kubik served as co-director (with Richard Mole) of two international projects, Delayed Transformational Fatigue in Central and Eastern Europe and Populist Rebellion Against Modernity in 21st-century Eastern Europe (https://populism-europe.com/poprebel/). He received M.A. (sociology and philosophy) from the Jagiellonian University in Kraków, Poland, and Ph.D. (anthropology, with distinction) from Columbia University.
Piotr Kłodkowski  is a Professor at the Centre for Comparative Studies of Civilizations of the Jagiellonian University (UJ) in Cracow. A visiting professor at the University of Rochester, New York. A former diplomat and the Ambassador of Poland to India (2009-2014) with diplomatic accreditations to Bangladesh, Nepal, Sri Lanka, and the Maldives. At present, he is also a member of the Committee for Asia and Pacific at the Polish Ministry of Foreign Affairs and a member of the Advisory Board of "Muslim Perspectives" published by the Muslim Institute (Islamabad, Pakistan).