"Darkness was here yesterday:" Joseph Conrad's view of man and politics – A lecture by Jaroslaw Anders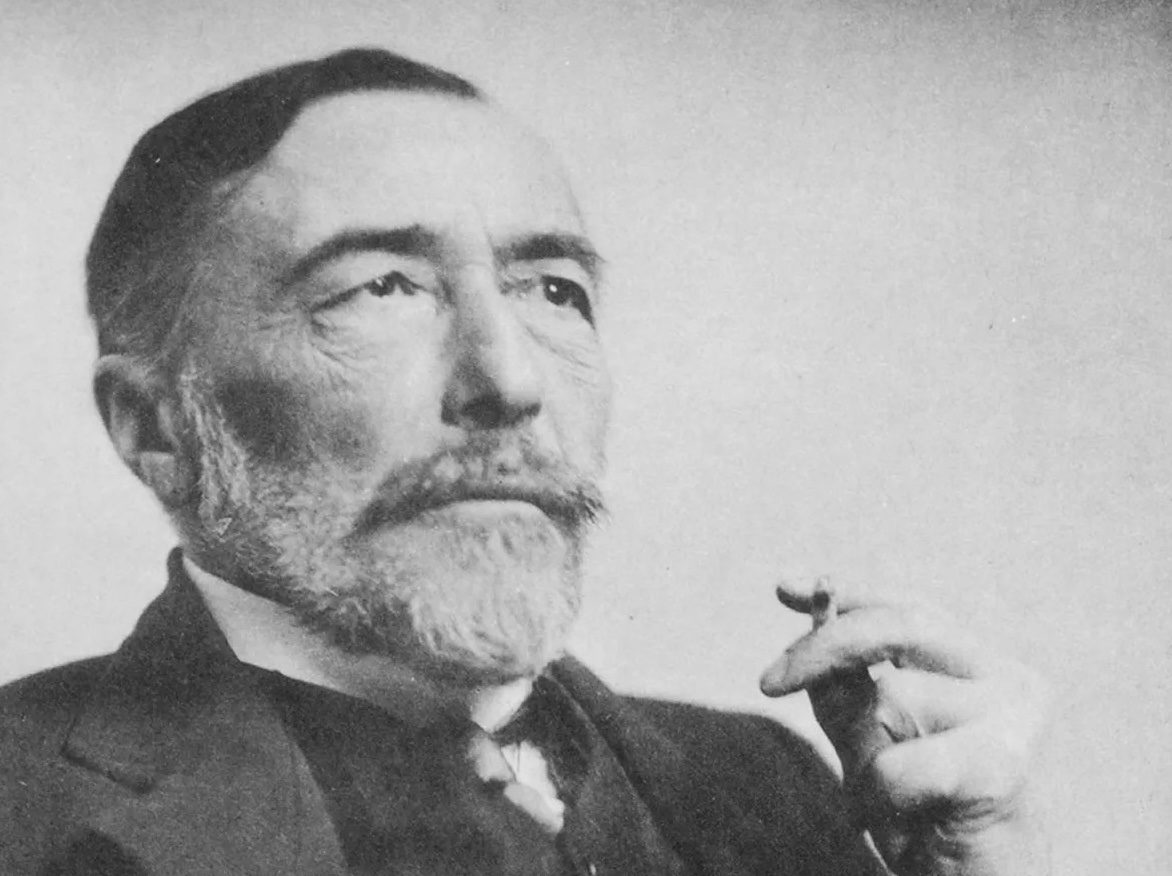 Friday, March 17, 2023, 4:00 PM ET

"Darkness was here yesterday:" Joseph Conrad's view of man and politics - A lecture by Jaroslaw Anders.

A discussion moderated by Malgorzata Pospiech, Ph.D. will follow the talk.
The webinar is presented together with the Polish Program at CUNY Hunter College and is part of the Tadeusz Solowij Lectures of the Kosciuszko Foundation. It is free and open to the public. Spots are limited, and registration is required. In lieu of admission, a donation towards the KF Cultural Fund is appreciated.
Joseph Conrad (born Józef Teodor Konrad Korzeniowski), a British writer who did not speak English fluently until his early twenties, is a figure perennially hard to place in literary history.
As his biographer, Zdzisław Najder, remarks, in Poland he was often considered a late Romantic. Others saw him as a realist in Gustave Flaubert's mode. In the English-speaking world he is usually placed among early modernists. An unquestionable master of style in his adopted language, Conrad was a penetrating, relentless, and thoroughly modern observer of a human individual cast in extreme circumstances and forced to make existential choices in a seemingly impassive, mute universe. Critics credit him with enriching English letters with non-English themes and sensibilities. Jaroslaw Anders discusses the continued resonance of Conrad's work in today's world of multiplying political, social, cultural, and ethical uncertainties.
Jaroslaw Anders is a freelance writer, translator, and editor. He is the author of Between Fire and Sleep: Essays on Modern Polish Poetry and Prose (Yale: Yale University Press, 2009) and numerous articles in The New York Review of Books, The New Republic, the Los Angeles Times Book Review, and other publications. He has translated several books from English into Polish and from Polish into English. In the past, he served as a writer and broadcaster for the Voice of America and worked in the Bureau of Democracy, Human Rights, and Labor of the U.S. Department of State. He lives in Washington, D.C.
Dr. Malgorzata Pospiech is a writer, documentary filmmaker, journalist, and photographer. She is a published translator, including Arthur Penn in Conversations, 1992-1995 (appearing in 2011); A  Small Town, the novel nominated for Central Europe Literary Award in 2015; The Seventh Ring ( a novel) and A Notebook (a collection of poems) published in 2016; Ariadna's Labyrinth nominated for Central Europe Literary Award in 2018 and Fog Over the River Styx (2019). Professor Pospiech is in charge of the Polish language and literature program in the Division of Russian and Slavic Studies at CUNY Hunter College.