Performed reading of "Zagłada," a new play by Richard Vetere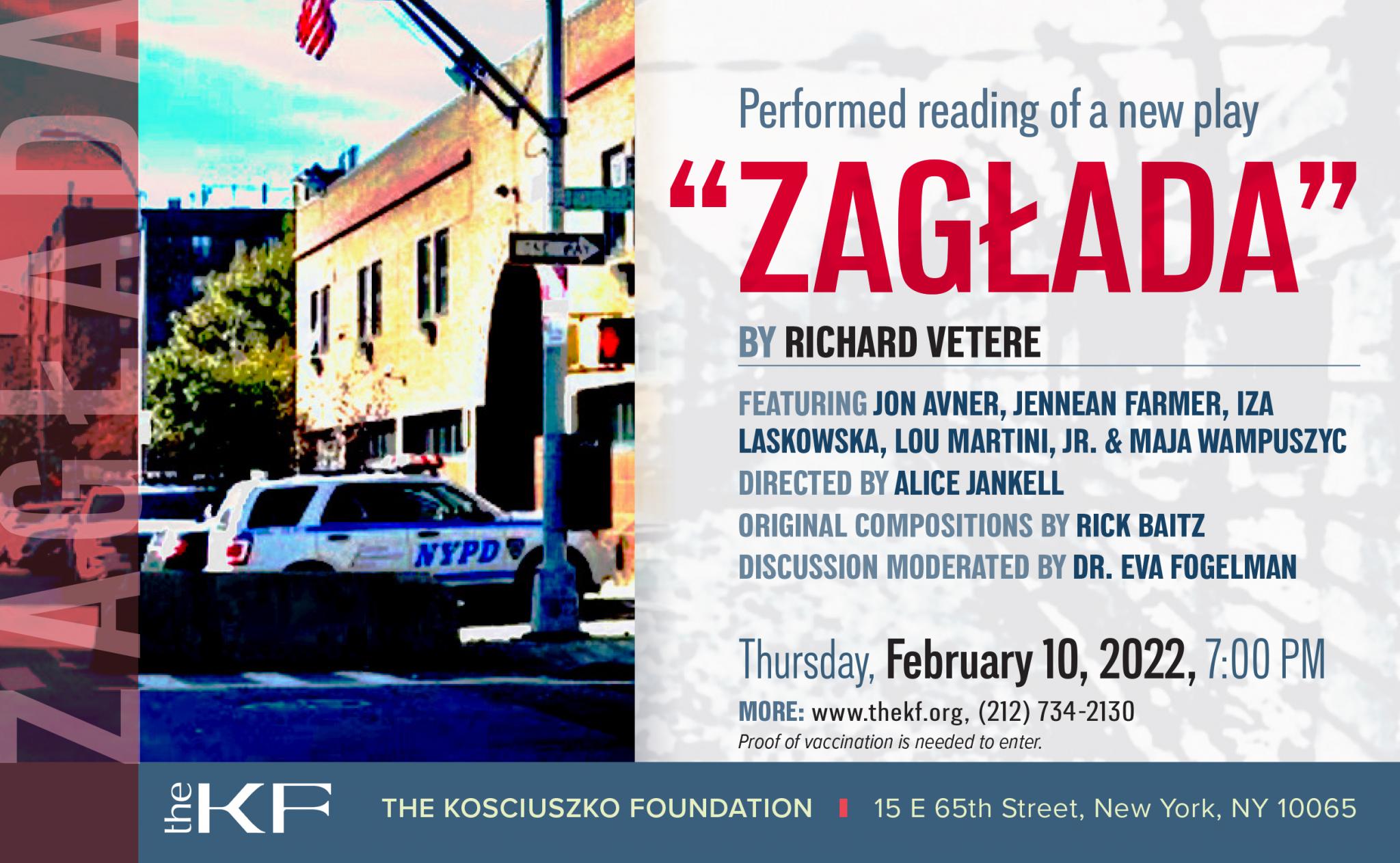 February 10, 2021, 7 PM ET

The Kosciuszko Foundation: 15 E 65th Street, New York, NY 10065


Performed reading of
"Zagłada"
a play by Richard Vetere
featuring:
Jon Avner, Jennean Farmer, Iza Laskowska, Lou Martini, Jr. &  Maja Wampuszyc
directed by
Alice Jankell
Original music compositions by Rick Baitz
 A discussion moderated by Dr. Eva Fogelman followed the presentation
JON AVNER is a Lifetime Member of The Actors Studio. Jon has appeared in films (Quality of Mercy, Dirt, Girl in The Watermelon, Queenie in Love, etc.), television (Guiding Light, As the World Turns, FTL Newsfeed, USA Up All Night with Rhonda Shear, etc.), commercials, radio and print and his voice can be heard in many advertisements and animes (Tokyo Godfathers, Berserk, Gokusun, etc.). He is also a voice actor for video games (Just Cause 3, Earth Defense Force, etc.) and has appeared on stages around the country (Amadeus, That Championship Season, All My Sons, etc.). As a writer, Jon is a member of The Dramatists Guild and his works include the many comedy-dinner shows and game shows he continues to write and perform in around the country. MORE
RICK BAITZ composes chamber, electronic, vocal, orchestral, and film music, as well as music for theater and dance. Innova Recordings recently released a highly-acclaimed CD of his electro-acoustic works, Into Light, which included the Juilliard-commissioned Hall of Mirrors, and his string quartet Chthonic Dances.  Film score credits range from 2019's award-winning documentary What She Said: The Art of Pauline Kael to HBO's The Vagina Monologues.  Rick grew up in LA, Brazil, and South Africa, and currently works out of his New York City studio. He holds teaching positions at Juilliard and Vermont College of Fine Arts and is Director of BMI's Composing for The Screen. MORE
JENNEAN FARMER is a proud Memphis, Tennessee native. After being honorably discharged from the military, she moved to New York to pursue her life-held passion for the arts. She received her M.F.A in Acting from The New School for Drama and immediately began her expansive career. To date, she can be seen in New Amsterdam (NBC), FBI (CBS), That Damn Michael Che (HBO), and soon to be seen in the upcoming film, The Good Nurse (NETFLIX).   MORE
EVA FOGELMANis an internationally known, Pulitzer Prize-nominated author, psychologist, and filmmaker. A pioneer in the fields of post-traumatic stress disorder, intergenerational transmission of trauma, behavior in extreme situations, Holocaust child survivors, and the psychological consequences of genocide and racism. She was the co-founder and co-director of Psychotherapy with Generations of the Holocaust and Related Traumas, TIMH; Jewish Foundation for Christian Rescuers, ADL (ne Jewish Foundation for the Righteous); co-director Child Development Research. Fogelman's work has been informed by her experience as a second-generation descendant of Holocaust survivors and a founder of a second-generation Holocaust survivor movement and Hidden Child Foundation. Among her publications is the best-selling Conscience and Courage:  Rescuers of Jews During the Holocaust.  She wrote and co-produced Breaking the Silence:  The Generation After the Holocaustand has been a guest on multiple television and radio shows, featured in a number of documentaries, and remains a frequent speaker for general audiences and at international conferences. She currently hosts Transforming Moments:  Second Generation of Holocaust Survivors at the Museum of Jewish Heritage.  MORE
ALICE JANKELL – For Disney, Alice helped to create and develop new Broadway musicals. As Associate Artistic Director of The Williamstown Theatre Festival, her directing work included AS YOU LIKE IT, DINAH WAS, and ENOUGH ROPE, the special event on Dorothy Parker starring Elaine Stritch. As Creative Director of The Barrow Group's F.A.B. (For, About, and By) Women, Alice helped generate and produce 48 new plays. She has worked in theaters around the country, including the Mark Taper, L.A. Opera, The Public Theatre, New York Theatre Workshop, The Hollywood Bowl, La Mama, and City Theater, among many others, as well as in film and TV. She taught acting at Carnegie Mellon. Just before Covid, Alice directed AN ENCHANTED APRIL Off-Broadway, and most recently, she directed Craig Lucas' brand new play, MORE BEAUTIFUL. A founding member of Core Artists Ensemble, member of The Actors Studio PDW, National Musical Theatre Workshop, New York Theatre Workshop Usual Suspect, and a co-founder of Putnam Theatre Alliance.  MORE 
IZABELLA LASKOWSKA holds a Master's Degree from the prestigious Theater Academy of Dramatic Arts of Krakow/Wroclaw with a concentration in Puppetry Arts. As an actress she was a company member of the Helena Modrzejewska Theater in Legnica and later the Współczesny Theater in Wrocław under the world renown Artistic Director Kazimierz Braun. Izabella has performed over 50 roles on stage and screen in Poland, Germany and the US. She has worked as a theatre producer, director, radio broadcaster, personality and is known for her unique work as a voice over artist. Since 2014 she is the President & Artistic Director of The Polish Theatre Institute in the US. The Institute's most recent launch under her direction is The Bobkowski Project; an international multi-voice experiment bringing to life Andrzej Bobkowski's Wartime Notebooks (Szkice piórkiem). This rare firsthand daily journal account of an outsider's perspective and experience of wartime Paris can now be listened to on https://www.polishtheatre.org/bobkowski-project.