Perspectives of Poland – A panel discussion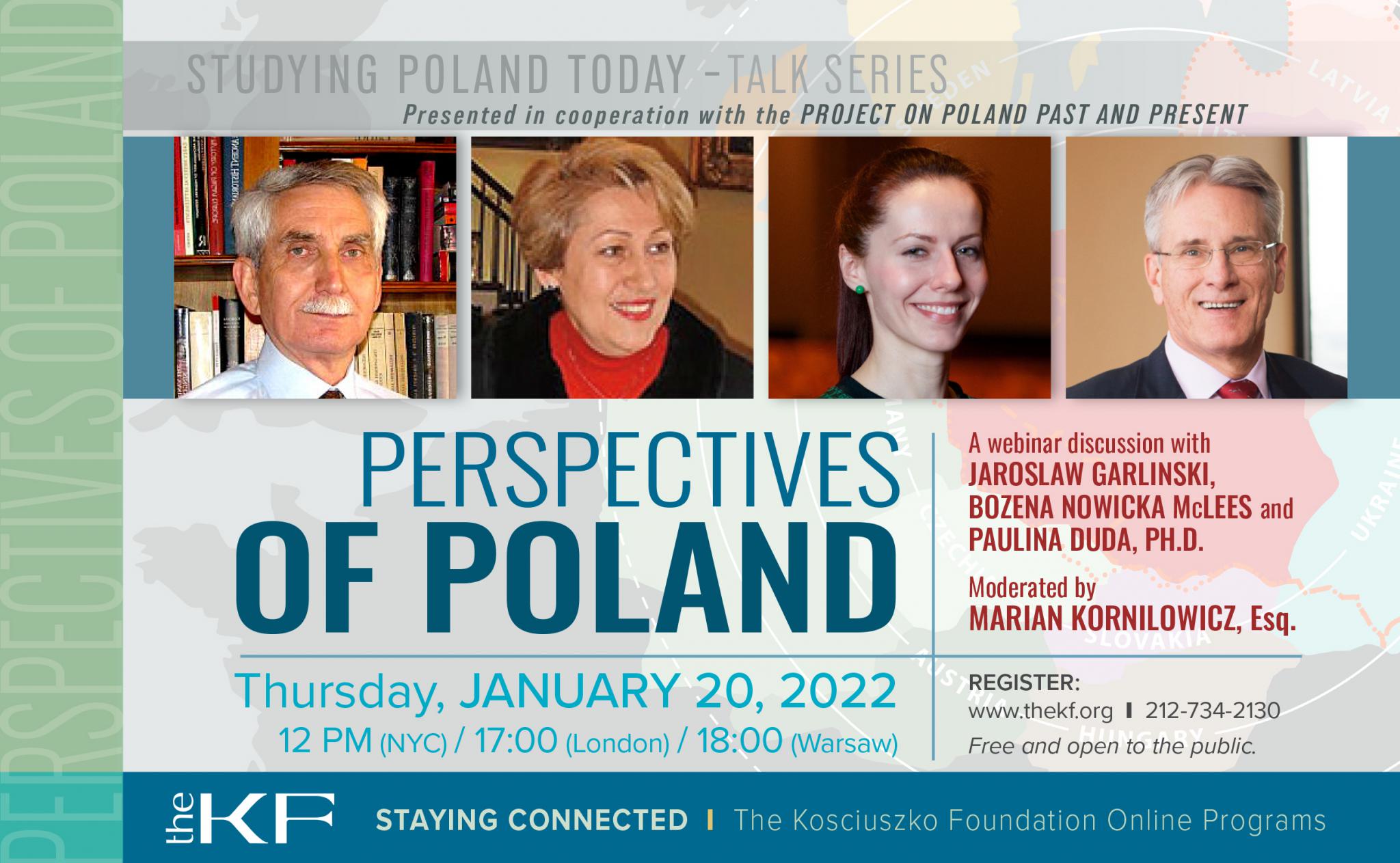 January 20, 2022, 12 PM ET

Perspectives of Poland - A panel discussion

Featured speakers: Jaroslaw Garlinski, Bozena Nowicka McLees, and Paulina Duda, Ph.D.
Moderated by Marian A. Kornilowicz, Esq.

The seminar is part of the Studying Poland Today talk series presented jointly by the Kosciuszko Foundation and the Project on Poland Past and Present. Its purpose is to raise the level of general and expert knowledge about Poland in foreign countries and, in particular, to strengthen Polish Studies in the universities of the English-speaking world.

This seminar discusses issues that Poles, whether living in Poland or elsewhere, face on occasion (and for purposes of this seminar being a Pole or being Polish means having a sense of Polish identity). The panel will share their thoughts on what does it mean to be Polish or have a Polish identity? In short, what makes us Polish?  Is it language, is it shared values, is it ancestry?
Does this sense of identity change over time? What factors affect this sense of identity?
Do Poles who were born and live in Poland see themselves and the world differently than Poles who were born in Poland but no longer live in Poland or Poles who were born and live outside Poland?
How would members of each group answer the following:
–          Are Poles disappointed that Poland does not play a greater role in the world?  Is their disappointment justified? Do Poles in fact have a realistic view of Poland's place in the world?
–          How are Poland and the Poles viewed by others?  How does the non-Polish world engage with Poland? Are there differences in how Poles and Poland are viewed by others depending on location? For example, what are the differences in British and American attitudes toward Poles?
–          Do Poland and the Poles suffer from a 'bad press' internationally?
–          Do Poles ever experience any kind of discrimination?
How does all this play into the teaching of the Polish language, literature, and culture? Are there comparatively fewer centers of Polish studies than centers of Spanish, French, or German studies based on the number of speakers? How can interest in teaching things Polish be increased? An influencer? The Witcher?
Translator JAROSLAW GARLINSKI was born in London, England, and grew up bilingual in English and Polish. His father was noted historian and author Jozef Garlinski, a former prisoner at Auschwitz-Birkenau. His mother Eileen Short-Garlinska was one of only a few Britons who spent World War II in Warsaw. Both parents served in the Polish Underground Army during the war.
Educated at the University of Nottingham, the University of Grenoble, and the School of Slavonic and East European Studies at the University of London, Garlinski is fluent in English, French, Polish and Russian, with a distinguished career in education.
Jaroslaw Garlinski is a member of the Polish Institute of Arts and Sciences of America and has been decorated by the Polish Ministry of Defense and the Knights of Malta for services to Polish culture. He has translated numerous books of Polish literature and history, specializing in the World War II era.
BOZENA NOWICKA McLEES is a Polish language and literature instructor and director of the Interdisciplinary Polish Studies Program at Loyola University Chicago.  Her academic interests include designing and teaching advanced Polish language courses as well as      20th – 21st century Polish literature and culture. Her most notable publications include a chapter in Language Diversity in the USA; Polish in the USA, Cambridge University Press, 2010, and a translation of Five Poems from Vade-Mecum by Cyprian Kamil Norwid, The Polish Review, vol. XXVIII.
Ms. McLees has focused on connecting the evolving academic programs in Poland with the existing networks of schools, colleges, and organizations in Chicago to promote interest and a better understanding of Polish culture, which includes maintaining Polish heritage language skills. She has collaborated with Poland's State Commission in providing examinations for the Certification of Proficiency in Polish as a Foreign Language. At the Chicago Sister City Warsaw Committee, she led the Educational Exchange Subcommittee. In 1988 she co-founded the Polish Film Festival in America.  She was the co-founder and Board Member of the Jan Karski Educational Foundation, 2012-2015, and worked for the Polish American Congress Charitable Foundation, 1980-1984. Ms. McLees is on the Board of the Polish American Historical Organization (PAHA), and since 2016 she has been serving as the president of the PAC Education Commission.
In 2008 Ms. McLees was appointed as the first director of Interdisciplinary Polish Studies at Loyola University Chicago to further develop an academic program for Polish and non-Polish heritage students who are interested in the Polish language, history, and culture. The Polish Studies Program http://www.luc.edu/polishstudies/ has grown to offer 30-34 courses annually that enroll close to 600 students, taught by six accomplished scholars who specialize in various fields of knowledge about Poland.
PAULINA DUDA, Ph.D. is a Visiting Assistant Professor of Polish Language and Culture at Brown University as well as a lecturer at the New Media Arts Department at the Polish-Japanese Academy of Information Technology in Warsaw. Earlier she served as a Visiting Professor of Slavic and Eurasian Studies at Duke University where she taught Polish language courses, Central European film, and literature. Paulina Duda received her Ph.D. degree from the University of Michigan (2017), her MA from the University College London, and BA from Jagiellonian University in Kraków.
Her scholarly work focuses on the intersection of nationalism and filmmaking in Poland, film production and distribution under Communism, the director's role in society, the French New Wave and Classical Hollywood Cinema as well as the aesthetics of music videos. She publishes essays, translations, and reviews in Studies in Eastern European Cinema, East European Film Bulletin, and Words without Borders, and is a jury member of the long-standing Ann Arbor Polish Film Festival. She is a recipient of many scholarships including the Rackham International Research Award and the Konopka and Copernicus Endowment Fellowship. In 2016, she received the prestigious Outstanding Graduate Student Instructor Award for her excellence in teaching.
MARIAN A. KORNILOWICZ, Esq. is a partner of Cohen, Seglias, Pallas, Greenhall & Furman, P.C. in Philadelphia, where he is Chair of the Firm's Business Practice Group. His practice is concentrated on the representation of clients in varied business transactions and real estate matters. Prior to joining Cohen Seglias, he was a partner at a boutique firm focused on the representation of businesses in varied commercial litigation and transactional matters.
He holds degrees from Suffolk University Law School and The University of Pennsylvania Law School as well as Rensselaer Polytechnic Institute and the Jagiellonian University, which he attended under a grant from the Kosciuszko Foundation.
Marian has taught Law and Human Rights at Rowan University and lectured paralegals on residential real estate law. He is fluent in Polish, serves on the Board of Trustees of the Kosciuszko Foundation, and holds leadership positions in various other Polish organizations.
His father graduated from Officer Candidate School in 1939 and fought in the September Campaign, the Middle East, and the Italian Campaign. His mother was deported with her family to the Soviet Union, transported to Iran, and settled in Palestine until 1947. His parents met in London and emigrated to the United States in 1953.